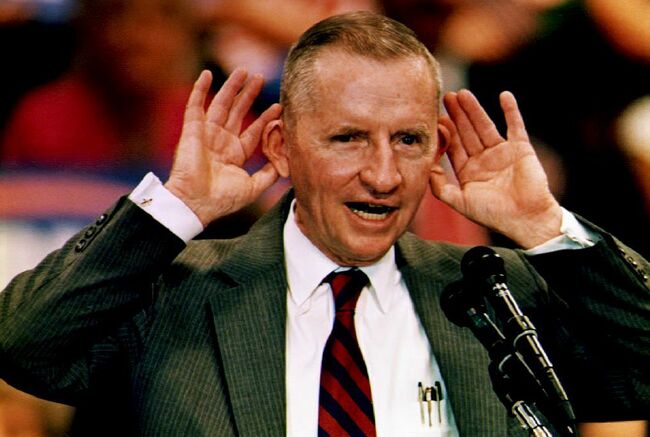 Billionaire and former Presidential candidate Ross Perot is dead at the age of 89. Perot had been battling leukemia over the last five months and passed away this morning at his home in Dallas with his family by his side. He ran as an independent for President in 1992. Many pundits argue Perot cost George H.W. Bush that election and handed the victory to Bill Clinton. Perot just celebrated his 89th birthday in June with his family.
Henry Ross Perot was born in Texarkana in 1930. Perot attended Texarkana College before entering the Naval Academy in 1949. He made his fortune in the computer services industry, founding Electronic Data Systems Corporation in 1962 with just one-thousand dollars from his wife, Margot. He later founded Perot Systems Corporation in 1988. Many of Perot's hires at Electronic Data were former military men, and Perot ran his business like a military operation -- men had to stick to a strict dress code and keep their hair short. 
Iran jailed two EDS executives in 1979 and Perot recruited a retired U.S. Army Special Forces to lead a commando raid on the prison. The executives were freed when a mob rushed the prison after the Shah's regime fell. Perot's commando's snuck the men into Turkey and eventually back to the U.S. Ken Follett wrote a best-selling book about the incident called "On Wings of Eagles" and it was made into a TV miniseries.
Most Americans knew Perot because of his two Independent runs at the presidency in 1992 and 1996. He spent over 63-million-dollars of his own money on the 1992 campaign and became somewhat of a celebrity with his brash style and catch-phrases such as "Just remember, you're the boss, I'm Ross," which then morphed into "I'm Ross and you're the boss." Perot got 19-percent of the vote in that election. That was the largest vote percentage for a third-party candidate since 1912 when former President Theodore Roosevelt ran on behalf of the Progressive Party. Perot's 1996 bid attracted far less attention. After that, Perot seemed to gradually leave the spotlight and his involvement with politics lessened.
Perot is survived by his wife, Margot and their five children. Perot also leaves behind 16 grandchildren.
Former President George W. Bush is memorializing Ross Perot as a strong patriot. Bush says the Texas billionaire epitomized the American creed and the entrepreneurial spirit. He also praised Perot for his love of the U.S. military and his family and said his condolences are with the entire Perot family. Perot endorsed Bush for the presidency in 2000 after challenging his father, George H.W. Bush, in 1992. 
Senator Ted Cruz is calling Ross Perot a Texas legend. The Texas Republican says Perot was an outstanding businessman and philanthropist who also was dedicated to his family. Cruz praised Perot for fighting what he believed in and working to change politics forever with his two runs for the presidency in 1992 and 1996.
Photo: Getty Images

The Joe Pags Show
The Joe Pags Show originates from 1200 WOAI in San Antonio and can be heard on affiliate stations around the country and on the iHeartRadio app. Get his official bio, social pages, articles and more online!
Read more